In a world where representation and inclusivity are paramount, the groundbreaking live-action Barbie movie serves as a prime example of how brand collaborations can redefine marketing and successfully appeal to diverse audiences.
The importance of authentic representation and resonating storytelling cannot be overstated. All too often, brands overlook the significance of representing their audiences accurately and addressing their concerns with sincerity. However, a true testament to a brand's commitment to authenticity is its ability to recognize and respond to raised red flags from consumers in a genuine manner.
Box Office: 'Barbie' Dances to $775M Globally, Days Away From Joining Billion-Dollar Club

The Hollywood Reporter
The Barbie brand has come under fire on several occasions throughout its 64 years on toy shelves for a lack of diversity in the ethnicity and body types of its dolls. However, as advertising for the Barbie movie commenced, it became evident that the film's director, Greta Gerwig, along with Mattel and the film's team of producers, had listened to consumer feedback and actively applied the lessons learned.
One of the key reasons for the live-action Barbie movie's triumph was its deliberate commitment to diversity in casting. By featuring a diverse range of talented actors, including prominent BIPOC stars such as Issa Rae, America Ferrara, and Simu Liu in leading roles, the film transcended traditional boundaries and celebrated the beauty of inclusivity. Audiences from a wide range of cultural and ethnic backgrounds saw themselves represented on the big screen in a significant and meaningful way, granting them the opportunity to focus on their one commonality – a genuine love for Barbie. This authentic casting choice sent a powerful message, showcasing the importance of embracing diversity in all forms of media and advertising.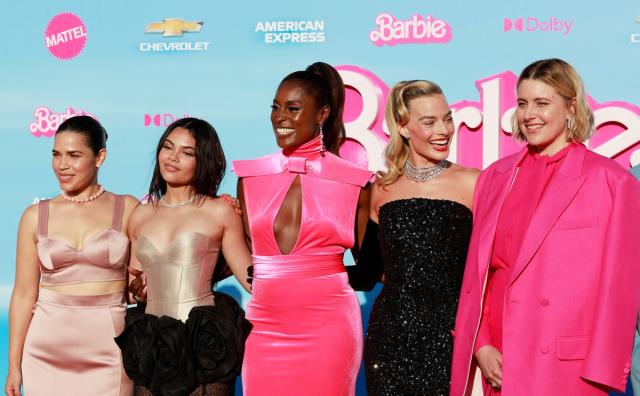 Beyond a simple source of entertainment, the live-action Barbie movie also utilized its platform to address relevant social issues. The movie's storyline deftly weaved in themes of identity, self-acceptance, and breaking societal stereotypes. Shedding light on these universal struggles enabled the film to resonate deeply with its audience, sparking conversations and driving social change. But how exactly did the Barbie movie accomplish this?
In addition to addressing crucial themes like body positivity, patriarchy, and the challenges of transitioning from childhood to adulthood, the film's standout moment lies in America Ferrara's highly-publicized monologue near its conclusion, which has deeply resonated with audiences.
"It's so amazing to get to be a part of a story that expands that narrative to include more of us."
Portraying the character of Gloria, America delivers a raw and unapologetic reflection on the realities of being a woman in contemporary society. From discussing weight and career to motherhood, she skillfully captures the essence of the female experience, striking a chord with the intended audience without sounding preachy. Her powerful performance seamlessly encapsulates the complexities women face in a modern-day world.
This bold approach demonstrated the immense power of embracing social responsibility and fostering a sense of connection and loyalty among audiences.
Hollywood Reporter revealed that the Barbie movie opened to a historic $162 million domestically, surpassing the expected $90 million to $110 million range and fueling one of the biggest box office weekends in history. Following the film's continued success since its release, it has already earned $774M in worldwide ticket sales.
But the success of the live-action Barbie movie did not rest solely on the film itself. The box office success was equally amplified by a well-planned marketing and advertising campaign strategically targeting many communities, including Black audiences. The movie's promotional materials and campaigns were designed with cultural sensitivity, celebrating Black culture and traditions while acknowledging the importance of representation in media; images of Black Barbies and Kens of all shades, body types, and hair textures were highlighted.
Malala Yousafzai and husband join "Barbie" craze: "This Barbie has a Nobel Prize. He's just Ken."
And just when you thought the Barbie movie could do no more to showcase its commitment to representing diversity, Mattel unveiled a line of collectors-edition Barbie dolls made in the image and likeness of its diverse cast. The highly anticipated doll line included, most notably, Issa Rae's highly publicized character, President Barbie. This authentic approach resulted in an outpouring of support and enthusiasm from Black audiences who felt genuinely seen and valued.
Beyond the movie's release, its brand collaborations demonstrated a commitment to fostering long-term connections with its audience. The studio partnered with notable brands popular amongst its diverse target audience, such as Boohoo, Burger King, Crocs, and Forever 21, further solidifying their dedication to making a positive impact. By aligning with the values and aspirations of its audience, including inclusivity, empowerment, personal growth, and self-expression, the Barbie movie's brand collaboration strategy demonstrated a profound understanding of its audience's needs and preferences, generating lasting loyalty and trust.
The live-action Barbie movie stands as a testament to the transformative power of brand collaborations that prioritize diversity, inclusivity, and authenticity. The movie achieved remarkable success by redefining marketing strategies and appealing to audiences representing a wide array of cultures and demographics with a profound commitment to representation and socially relevant storytelling.
Contact us below to learn more about how we can work together to make an impact as major as America's favorite doll did at the box office.